when Carton stacking,the main stress is perpendicular to the plane, therefore, most of the cartons are with vertical corrugated direction.
3. The relationship for the flute direction and box shape
Sometimes the paper box is long and thin, when sticking box it is very difficult to do para-position operation,so need to change the paper grain direction to be horizontal .

Flute direction of the sunlight packaging box
Corrugated direction of the fluorescent lamp box will be warp, there is friciton between the box body and the suface paper of the plug tongue. When cutting the box, need to crush all the plug tongue, and inform the customer of the phenomenon at the some time.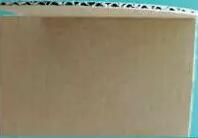 Tubular color paper box with vertical flute
Tubular color paper box with horizontal flute
\
In order to get strong support, corrugated direction of plate color paper box should be parallel to the shorter side.
The crease of the plane box lid is easy to crack, because repeatedly open and close, if the corrugated direction parallel to the crease(as figure 4).The corrugated direction should be change (as figure 3), can avoid this problem
Though various details above is very detailed,but shall not presumptuously change customers' original design, can suggest clients to be so, and explain the reason of the change, because customer maybe has some other reasons to use this corrugated direction.
The trouble for sticky box brought by vertical corrugated direction has been a headache, some factories use double anti indentation method to improve the vertical grian of super line, off-line and bell mouth, it is worth using for reference.